Turn IT On provides hands-on computing and training support for schools.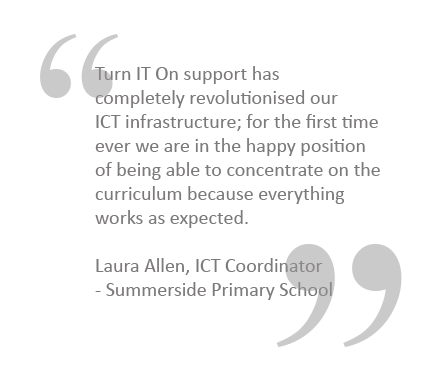 Since 2003 Turn IT On has only worked with schools. All our staff have experience working in education and many are qualified teachers. So, there is not much about schools we don't know!
Turn IT On consultants are like another member of staff: they'll be there every week and go the extra mile to drive progress.
Our staff are much more than technicians. We want to make sure your ICT is having the maximum impact on learning, so our technical helpdesk and curriculum specialists are also on hand to ensure your school's technology works better for less. Our range of computing, curriculum and training services save hundreds of schools time, effort and money.
Because schools are at the heart of everything we do, we always put your needs first. We'll take care of all your ICT, so that your teachers can get on with teaching and your children can get on with learning.
Turn IT On: Computing by teachers for teachers