Turn IT On Partnership Plans: cost-effective and flexible computing support and development plans for school partnerships and multi academy trusts
What is it?
Through a coordinated approach to IT, Turn IT On Partnership Plans plans provide school partnerships and multi academy trusts (MATs) with financial and service collaboration benefits, enabling you to work better for less.
How will it benefit your school partnership?
Collaboration opportunities
Turn IT On School Partnership Plans provide a consistent and collaborative way for establishments working together in trusts, federations or partnerships to make purchasing and computing support decisions. Your partnership's approach to IT will be planned strategically between Turn IT On and your senior leadership team to ensure you are working to the same IT vision and get a better return on your IT investments.
Consistency throughout
We know it is enormously important for academy trusts and school partnerships to be able to provide a smooth transition of students from primary to secondary. The partnership model lends itself to consistent strategic planning and, as a result, a collaborative vision for IT means that the children from each primary in the group have a consistent grounding in computing technology, priming them ahead of their transition to secondary. Turn IT On Partnerships Plans will help develop, implement and support this every step of the way.
Our Partnerships Plans service options, such as our Multi Site Discover Network, all collaborate across the different sites. They work to unite the establishments in your partnership, save you money and increase efficiency for staff by way of easy file sharing, consistency on each site and unified logos.
Increased school improvement
A dedicated School Development Manager will be responsible for overseeing your partnership's three year IT plan across all sites. He or she will review the plans, ensuring each establishment is on track. In addition, Turn IT On's MIS reporting tools allow leaders to easily extract and compare MIS data from different establishments, highlighting specific areas of success and cases requiring improvement. For those schools venturing into the academy conversion process our MIS consultancy supports you every step of the way, advising on MIS processes and decisions.
Cost savings
Entering the plan together with other establishments in your partnership means you are able to benefit from the cost and time efficiencies of bulk purchasing and a consistent approach to strategic IT planning and implementation.
Flexibility to choose your level of support
Within partnerships which include a secondary establishment it is often the case that the secondary's IT support resources are shared by the primaries in the trust. With the Turn IT On Partnerships Plans each primary establishment gets its own assigned level of support based on individual requirements. This means the same joined up approach is applied at each site and resources are not stretched.
Because individual establishments' computing needs can differ so vastly, our flexible range of services means that we can customise our support so each establishment gets what they need and only pays for what they get. You will receive exactly your required number of regular hands-on computing support visits from highly-qualified consultants, along with any additional IT services you may need.
How will it work?
1. All establishments in your partnership will enter into a Turn IT On Computing Support contract*
Turn IT On will discuss each individual establishment's needs and will propose the level of support that matches their requirements and which fits with your Partnership's vision for IT. Each establishment will receive a special trust price as outlined in the table in the 'Pricing' section of this document.
2. All establishments in your partnership can then opt to add other optional services to their support profile such as broadband, MIS support, Multi Site Discover Network*
Each establishment will have a different set up and some may be nearing the end of their current contracts whereas other may not be. The additional services available are non-obligatory and each establishment can opt for the support profile that suits them.
3. Your Turn IT On School Development Manager will provide strategic vision and, working with your senior leadership team, will plan a collaborative approach to IT.
Whether this involves a detailed procurement plan, a staff training programme or a complete overhaul, we can work with schools and academies at all stages of their IT development.
Service options
As depicted in the example diagram below, there are various additional set-up service options available to establishments. These include broadband options network and wireless solutions and SIMS/Integris support. There are potential collaboration and cost-saving opportunities associated with using these services across your group and we will discuss these with you and to what degree you would like to tailor your support profile.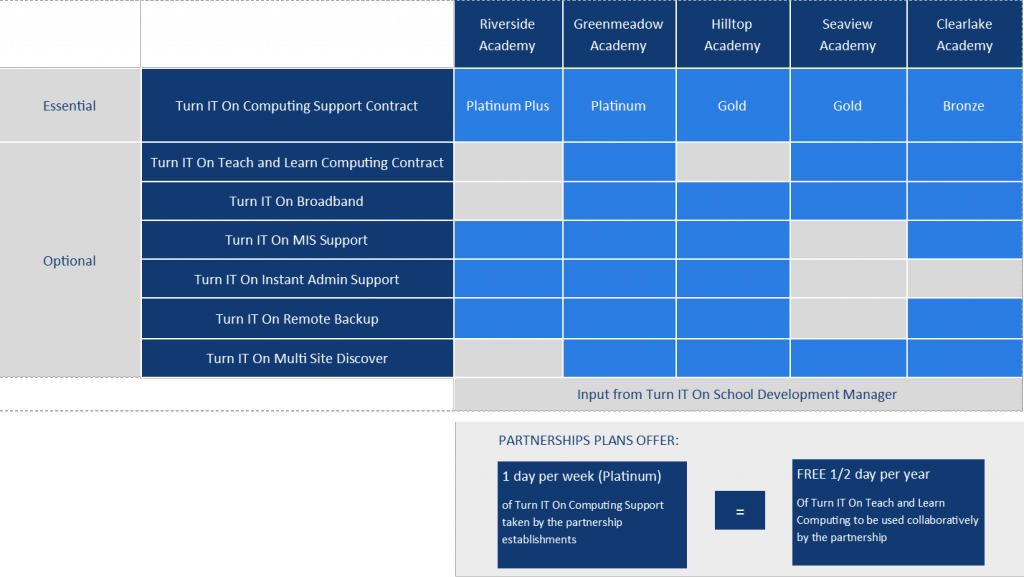 What are the next steps?
1. More information about Turn IT On Computing Support and other services can be found in the rest of your pack.
2. If you would like to find out more about Turn IT On's Partnerships Plans, please contact our main office on 01865 597620. We will arrange a convenient time to visit your partnership. During our visit we will discuss your IT vision as well as your establishments' exact technical requirements.
3. We will then draw up a proposal based on the level of support and additional services needed. We will arrange a time to come back to discuss this with each establishment.
4. Should you decide to proceed, a contract will be drawn up and you will receive a free audit which will form the basis of the schedule of work to be carried out during your consultant's visits. We will also outline to you the different ways your establishments can get in touch with us.
5. Your regular visits will then begin and your consultants will start working with you to drive progress.