With many schools using cloud-based services to manage remote learning, now may be the perfect time to review whether a cloud-based Management Information System would be the way forward for your school.
Arbor is a secure, user-friendly and intelligent cloud-based MIS that provides your staff with instant access to the data they need without having to rely on other members of the team to run complicated reports.
With the right information available at the right time, teachers and SLT are empowered to make better-informed decisions faster, giving your team more time to focus on supporting your students.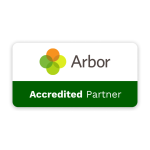 Arbor MIS gives schools the tools they need to work better today and be ready for tomorrow. Used by over 1,200 schools and trusts across the country, it's the fastest growing MIS today.
See the bigger picture with the only true MIS for MATs. More than just a dashboard, Arbor MIS for MATs is custom-built for better collaboration across your trust, with tools that make working together easier at every level.
With many years of MIS support experience, turn IT on can ensure the effective and enhanced use of Arbor to give you peace of mind and make sure you get the most out of your MIS. Arbor support from our team of experts is on hand whenever you or your team need it.
To learn more, visit www.arbor-education.com
Choose a better way to work. Arbor MIS gives schools of all sizes the tools they need to work better today and be ready for tomorrow. Free staff up and work more collaboratively and stay connected on the cloud, so your whole team has a shared view of what's going on, even if you're not together. With over 1,200 primary, secondary and special schools, Arbor is the fastest-growing MIS community in the UK.