With many years of experience in supporting SIMS and FMS, our fully Capita accredited team ensures the effective and enhanced use of Management Information Systems. This gives peace of mind that your funding is correct, that Ofsted data is ready and that expert support is on hand whenever you or your team need it.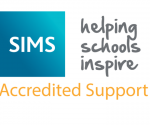 Unlimited telephone and remote support is available from a fully Capita accredited team of 13 experienced MIS experts with immediate access to 1st, 2nd and 3rd line SIMS and FMS support specialists.
Our expert team can also provide a wide range of scheduled training courses and on-site consultancy services to ensure you make the best possible use of your SIMS and FMS software.
turn IT on support includes an advisory service to maintained schools and academies for DfE-required statutory returns and end of year procedures.
As part of this service we also provide tailored documentation to make statutory returns and end of year processes much easier for our schools.
Our experts know every aspect of Capita SIMS and support covers key areas including pupil data, behaviour, assessment, school statutory returns, personnel, SEN, timetabling, exams, lesson by lesson registration, dinner money, attendance, reporting, communication and equipment register.

"turn IT on has been supplying us with Capita accredited SIMS & FMS support since 2013. We have always found the team be knowledgeable, proactive and professional, often delivering above and beyond our expectations!
During a recent Ofsted inspection, the team helped us to produce very complex reports from SIMS to present to the inspector which was invaluable when working under extreme time pressure."
Mary Shorland, School Business Manager, EP Collier Primary School & Nursery