It's British Science Week!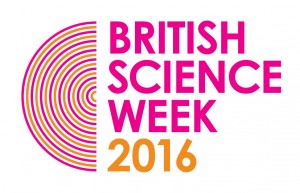 It's British Science Week 2016, time for a celebration of the best of British science, technology, engineering and maths!
Between the 11th and 20th March there will be a wide range of events going on across the country for all ages, have a look here to see what's happening near you!
If you can't make it to an event there are lots of other ways you and your class can get involved in this year's British Science Week. Pupils up to year 10 can enter the British Science Week Poster Competition, this year's theme is "Space for Science: Science in Spaces", encouraging young people to think about and investigate all the different spaces in which we find and do science. More information about the competition can be found here, the deadline is 15th April so get your creativity hats on and submit your designs!
To help inspire projects and activities in the classroom or with the family at home activity packs have been created for Primary and Secondary students. The downloadable packs contain ideas for a wide range of activities that can be used during British Science Week or any other time of the year, the ideas can easily be adapted and extended to suit the children's ability and intrigue. Alongside the activity packs there are lots of other activities ideas and resources as well as the 2016 quiz.
Another way to get involved is to become a Bat Detective as part of the Citizen Science project. Bat Detective is an audio visual citizen science project that asks people to identify bat calls. The aim is to add 100,000 new classifications of bat calls to help move closer to creating automated software that can automatically detect and classify bat calls, helping us learn more about the animals.
If your class are taking part in any activities for British Science Week be sure to register here to work towards digital badges!
Follow @ScienceWeekUK to keep up to date with everything and be sure to tweet your activities using #BSW16