Gmail Hack
We are aware that some schools have received an email from other schools/companies containing what appears to be a Google pdf.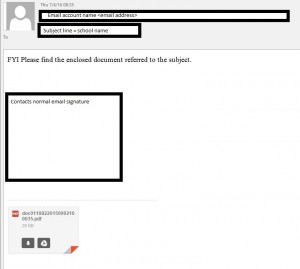 The message tends to have the school name in the subject line, text saying "FYI Please find the enclosed document referred to the subject" followed by the "senders" signature and then a PDF attachment.
Clicking the link will take you to a login screen asking for your Gmail credentials, once these have been in-putted the hacker has access to your email account and has then been sending the same email to all your contacts alongside creating filters and rules that send your emails straight to your deleted bin so that you don't see them. 
If you are aware that you've received an email like this and have clicked the link and entered your login details please ensure you change your log in credentials on Gmail as soon as possible.
If you receive an email like this please do not click the attachments or enter you Gmail account details – make your own way to Gmail and change your password anyway just to be on the safe side! Also try to contact the sender of the email to make them aware of the hack so that they can change their details and solve the problem.
If you need any help with solving this issue please call our helpdesk on 01865 597620 – option 1 and they will strive to help you resolve the issue and get back to full working order.