SIMS Reporting Suite Coming Soon
Turn IT On are excited to announce the our SIMS Reporting Suite is coming soon!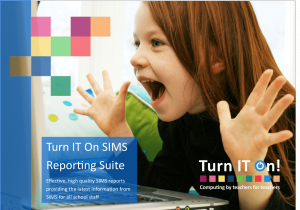 Turn IT On's experienced MIS support team have been  working with school's to discover what would make their life easier and the result has been the production of over 20 different reports. These reports are specifically designed to help schools utilise their data within their MIS system and is perfectly suited for teachers, administrators, first aiders, catering staff as well as the Senior Leadership Team.
Key features of the Reporting Suite:
Start up fee £200 for the first year
A comprehensive user guide detailing each report
Free telephone support
An annual renewal fee of £100
Annual upgrades and new reports
Reports for teachers and teaching assistants include:
Emergency contacts report
Exercise book labels report
Pupil Premium List report – perfect for when OFSTED visit!
Reports for First Aiders include:
Medical Data sheets – complete with photos, allergies and medical details, designed to be pinned up in the medical room.
Nurses report
Reports for Catering staff include:
Allergy information report
Reports for the Senior Leadership Team include:
Staff absences reports
Staff training reports
Pupil Persistence Absence listing
Reports for office staff include:
Parental Addressee Labels
Sibling List – with photos, perfect for organising the Photographer!
Staff and Parent Data collection reports.
Once you have access to the reporting suite you are also able to tailor the reports to suit your exact needs and if you need any help our support team is just a phone call away!
For more information on this new reporting suite please call the MIS team on 01865 597620 – option 3