Turn IT On customer portal benefits schools
We often receive lovely comments from our schools letting us know how much they appreciate our support. The wordcloud below displays some of the most frequently used words that appear in feedback we gather from schools. In particular it highlights what our schools value about our support contracts and our customer portal.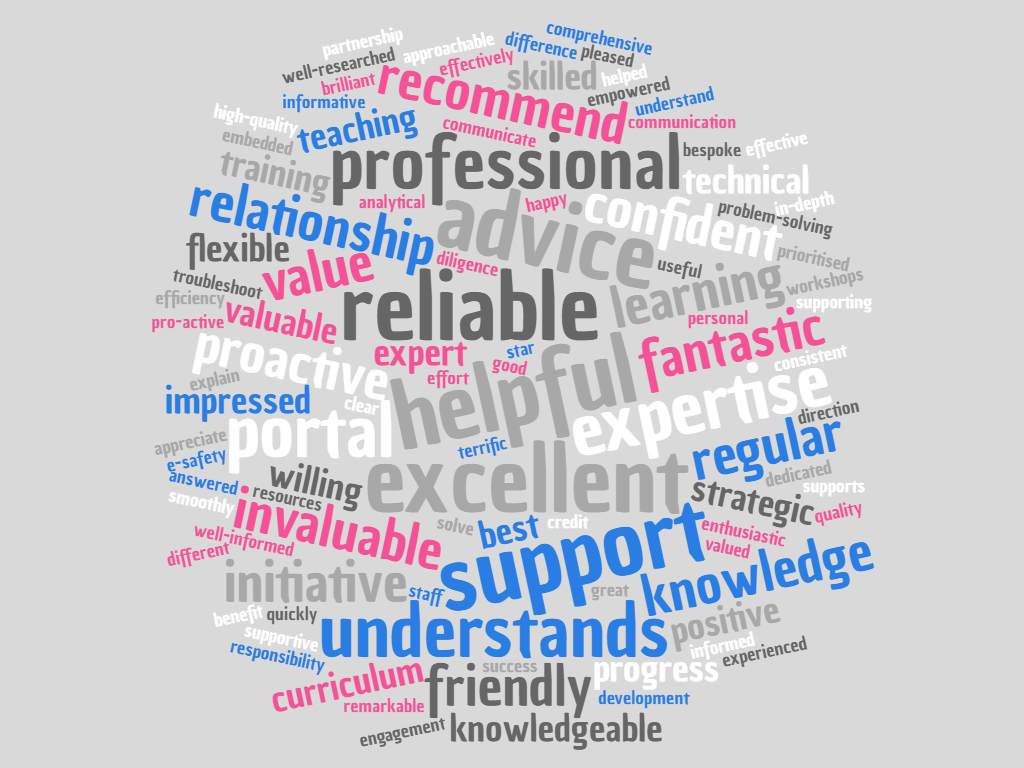 Below are some comments from schools we have spoken to recently and which are fairly typical of the feedback we receive:
"The customer portal is very useful, it is clear and very user-friendly"
"I particularly appreciate the ability to report problems online which are forwarded to our consultant before his next visit, and often are sorted before then."
"Our IT consultant is fantastic. He understands the needs of our primary school and is able to explain things clearly, without IT jargon, to our staff so that they feel empowered to use new equipment/software and can even trouble shoot minor issues themselves. Since using Turn IT On it has meant that I am able to get on with my role as Computing Subject Leader dealing with the curriculum instead of having to try and deal with the host of technical issues that always seem to arise."
"Our consultant from Turn IT On understands the primary school environment and has made a huge difference to the teaching and learning of computing at our school."
"Our regular consultant fits in well with the staff at school; he is helpful and informative and he works to the requests which are placed on the Turn IT On portal. He makes decisions regarding the priority of the work which is posted onto the portal and explains this during his visit. We would recommend Turn IT On to other schools because of their technical expertise, reliability and expert advice."
To find out more about our support contracts, our customer portal and how Turn IT On support could benefit your school please contact us.