Our new Fairphone FEELS great
We all understand Fairtrade.
Only ten years ago the idea of "ethical consumption" had barely been broached. An Ethical Consumerism report from 2000 argued that consumers simply didn't care about ethics: Fairtrade had little more than 1 percent market share in product lines. Consumer awareness of the Fairtrade mark was still pretty small, with fewer than 20 percent of the UK population knowing about it at the time.
The situation is very different today however: not only do more than 70 percent of the UK population now know what Fairtrade is, but it is considered to be the most recognised and best understood ethical label in the UK market. Supported by a massive grassroots movement committed to changing the lives of developing country producers for the better, 500 Fairtrade Towns and thousands of Fairtrade schools, churches and universities now exist throughout the UK.
Enter Fairphone.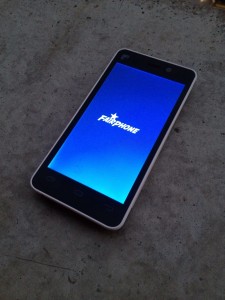 Fairphone has been created by a Dutch company who set out to make the most ethical smartphone on the market. We have followed their story from early on, and have waited patiently through the development stages until we finally received an actual Fairphone. Using it and even just holding it feels great, for several reasons.
Minerals mined (often in slave-like conditions) in gang-controlled territories of Democratic Republic of Congo (such as Coltan) keep a war that's killed 5 million going and are shipped to be used in products often made in sweatshop conditions in China or elsewhere. These are then available in your local Carphone Warehouse or Apple mecca. Read more about Coltan at WarChild.
Fairphone is created from the same precious minerals, but they have been traced to ensure that they are conflict free, fair resources that put people first. The factories in China that construct the components operate with better working conditions and recycling practices. Pricing is also fully transparent and fair. No other modern device can claim to be conflict free, and the component parts inside are likely made in horrible conditions.  According to HP, Microsoft, Apple, Nokia,  Acer, and Intel, fixing these issues is impossible.
Well, that's not true.
Fairphone cost us £350. The battery is accessible and removable. It can run two SIM cards at the same time, you can choose between the two for phone calls or data on the fly. The camera is decent and t is a solid looking device with a clean interface that doesn't come bundled with bloatware.
Fairphone OS: Teaser Film from Fairphone on Vimeo.
With Fairphone, sustainable mineral extraction, phone lifespan and re-use, recycling, labour rights and conflict-free sourcing are built in to the business model. It also champions the use of open everything, from software to design to brazenly adopting the hacker mantra: "If you can't open it, you don't own it" as their manifesto.
Using the phone feels great, from the user experience to the knowledge that this is a 'clean' experience, decidedly free from evil.
We are hoping that the second stage of production starts soon so that we can order more Fairphones. We are looking forward to a future where ethical tech becomes the norm and we can offer fully ethical technology to the schools and students that we supply.