Bett Show 2014 – Turn IT On's review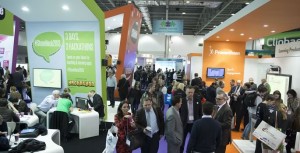 We think that this is perhaps the busiest year of the Bett Show that we have attended and there were lots of great stands and exciting products to demo.
Here are a few of Turn IT On's highlights:
Bett Bus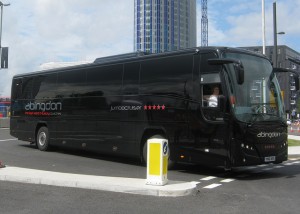 We ran our free Bett Bus on Thursday and about 30 staff from Turn IT On schools joined us for convenient transportation to the show. Our collections from Redbridge park and ride in Oxford and Cressex park and ride in High Wycombe meant that Oxfordshire and Buckinghamshire schools could attend, along with some schools from Windsor, Maidenhead and Wiltshire.
We arrived in good time and ahead of the first Turn IT On pick of the day: the "Connecting to Raspberry Pi" seminar, which some of our schools opted to attend.
2Simple 2Code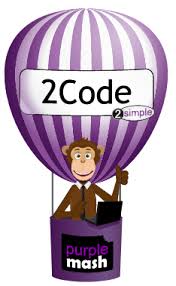 We were interested to see that, as predicted, much of the content at the show this year was related to the new computing curriculum. A great deal of emphasis was placed on the coding, programming and algorithm aspects of the new curriculum's strands.
Particularly of interest to Turn IT On was 2Simple's new software, 2Code, which is released today. The program's developer was on 2Simple's Bett stand and was happy to demonstrate to us the many features of the new software, which include:
Step-by-step lesson activities that cover all of the Coding Objectives for different age groups
Ready-to-use 'broken code' activities for teaching debugging
Video tutorials that ensure teachers always feel confident with the lessons
Tailor-made activities for tablets and touch-screen devices
Free Code mode where learners can develop their new coding skills and really get creative
Hints and guidance provided throughout to aid the learning process
'Success recognition' so children know when they have completed a challenge
A debugging tool which spots problems in pupils' coding and gives hints on how to fix it
The friendly, familiar, safe and secure Purple Mash interface
More advanced learners have the option to view and edit the actual code in JavaScript
We would be interested to see if any schools have begun using 2Code today. Let us know!
'How to Catch Code'
The free afternoon workshop 'How to Catch Code: Stress Free Computing' was full of great practical ideas on how to deliver the coding aspects of the new computing curriculum.
The speakers aimed to make it clear that coding needn't be a stressful prospect and should not have to involve tackling hundreds of lines of BASIC. The hands-on approach of the workshop meant that participants could access given resources and trial the suggested curriculum progression.
Interactive Panels
In recent months we have noticed a trend in schools opting to move away from a standard whiteboard and projector set-up and instead investing in an all-in-one interactive panel or TV.
We investigated this at the Bett Show by visiting many different providers of interactive TVs; many of which currently
seem to be hugely expensive in comparison to the usual projector and whiteboard option.
SMART, however, were among the few providers with an option that seems more cost-effective. As SMART is already one of Turn IT On's current recommended providers of whiteboards, this has sparked an internal discussion at Turn IT On to determine whether SMART also provide best value for interactive panels.
Several of the schools we support have already decided to go down this route and are testing interactive panels. Part of these schools' decision is due to the expense of replacing projector bulbs, which of course are avoidable with an interactive TV.
There is also an emphasis on teaching at the desk-side and moving away from teaching at the front of the class, which can arguably be achieved with much simpler and cheaper options such as a tablet with the right education apps installed.
Let us know if you would like any advice on interactive TVs and panels, or if you have opinions about any of the available products.
SIMS developments
Our SIMS team met with software suppliers including Capita and Schoolcomms to catch up on the latest upgrades and changes.
There are exciting developments ahead in Early Years assessment in SIMS: Capita are producing new resources for schools to track early years.
Schoolcomms have launched a new Online Reporting product and also revealed the developments to their School Gateway app. Schools are now able to process Online Payments within the app.
Other highlights
Our team were also impressed with unbreakable headsets for the classroom, £30 visualisers, the latest anti-theft devices and seeing 3D printers in action.
We were also thrilled when a group of teachers from Manchester that we spoke to let us know they have subscribed to our curriculum newsletter and find it full of great ideas each month. Let us know if you have any requests for content for next month's newsletter.
We are already looking forward to next year: look out for adverts for the Bett Bus 2015 which will be in circulation from November.