How to catch code – workshop resources
For those of you that read our Bett 2014 review blog post you will remember we mentioned the free workshop we attended at the show on Thursday: 'How to Catch Code: Stress-Free Computing'.
If you weren't able to make it to the workshop yourself please feel free to download the presentations from Whytek Consulting who delivered it on the day: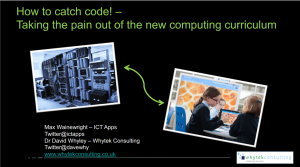 There are some useful ideas and resources in both PDFs. Well worth a look if the prospect of teaching code is still shrouded in mystery!