Turn IT On computing training catalogue
Turn IT On runs a variety of onsite computing training courses for teachers to enable them to confidently deliver the computing curriculum. Our sessions range from E-safety to iPad apps and can be used as an element of CPD and a three-year strategic computing plan (which Turn IT On can also assist with).
Here is a sample of some recent feedback from one of our sessions:
"Pitch of the training was great, pace very good!"
"It was great, thank you for making it fun"
"Great delivery"
"The trainer clearly had lots of experience of making the abstracts of the new curriculum relevant to the school"
Take a look at Turn IT On's Training Events catalogue which is published on our services page here. Alternatively, download below.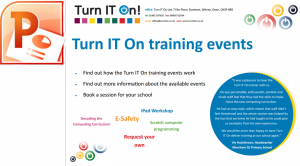 If you would like to book a training session with one of our curriculum team please email curriculum@turniton.co.uk.