Microsoft Surface Pro 3 review and iPad comparison
Microsoft recently released the Surface Pro 3, the latest addition to its Windows tablet line-up. Our review aims to compare it against the highly popular iPad and assess its viability for schools.
The first Surface tablets were pitched directly against the iPad, however Microsoft has described the Surface Pro 3 as a tablet that can replace your laptop. They are aiming it at people who want the portability of a tablet but the power of a laptop.The iPad is more of a consumer gadget used for communication and entertainment, rather than productivity, so is not going to be a complete replacement for a laptop. One of the only areas in which the most recent iPad and Surface Pro 3 share similarities is the design. They're both tablets so they both sport touchscreens and don't have an attached keyboard like a laptop does.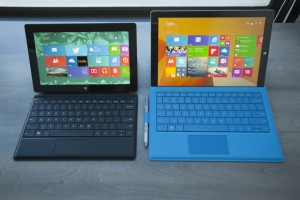 The Microsoft Surface Pro 3 has a larger screen than the iPad's 9.7in display, at 12 inches, designed to cater for running apps alongside each other, or for those who want to run applications that benefit from more screen space like Office programs and Photoshop. It has a resolution of 2160×1440, while the iPad Air has a resolution of 2048×1536. That means the iPad Air's Retina display has a higher pixel density (264ppi) than the Surface Pro 3 (216ppi).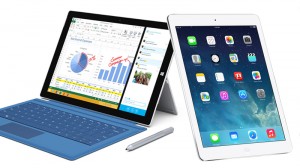 Microsoft has designed the Surface Pro 3 to give it a 3:2 aspect ratio, which allows you to 'snap' three apps side-by-side at equal widths. It's also designed to look and feel similar to a piece of paper, according to Microsoft. The iPad has a 4:3 aspect ratio. Neither have opted for the popular widescreen format of many other tablets (and the Surface 1 and 2). The widescreen format is great for entertainment and watching videos, but for reading and working on documents, a squarer, less letterbox shaped screen is easier to work with.
The newest iPad Air is much lighter than the Surface Pro 3, but the Surface Pro 3 is larger overall and has some heavy technology inside it to bring that aforementioned power. It is 800g for the Surface Pro 3 compared with 469g for the iPad Air, and 9.1mm in thickness for the Surface Pro 3 compared with 7.5mm for the iPad Air. Ultimately, the Microsoft Surface Pro 3 is the thinnest Intel Core PC ever made.
Here's where the similarities end and the differences between these two tablets become clear. As it's designed to be a replacement for a laptop, the Surface Pro 3 uses ultrabook-class Intel chips (either Core i3, Core i5 or Core i7, depending on the model you choose), making the higher-spec models just as powerful as any laptop on the market, and most desktop PCs. The iPad Air, on the other hand, uses an Apple-exclusive ARM-based A7 chip designed to be used in mobile devices. We've yet to test the Surface Pro 3's performance, but you can expect it to be very impressive for a tablet.
Turn IT On would like to point out that Intel have recently pledged to create all of their processor chips from conflict-free minerals. This is a good practice that we at Turn IT On feel most strongly that all companies and establishments should aspire toward when procuring IT resources. Read more about the conflict mineral issue on Intel's website and take a look at this infographic (click for larger image):

Continuing the review; comparing connectivity on the Surface Pro 3 and the iPad sees the Surface sporting a USB 3 port and microSD card reader that the iPad Air lacks. The iPad Air has just 1GB of RAM, while the Microsoft Surface Pro 3 has the option of 4GB or 8GB RAM, designed for more powerful tasks and resource intensive educational software. The iPad Air has a 1.2MP front-facing camera and a 5MP rear-facing camera, while the Surface Pro 3 has a 5MP front-facing camera and 5MP rear-facing camera, for higher quality selfies!
Both tablets have a variety of options for storage space. Increased storage is expensive as both rely on solid state flash memory. Schools should be looking to save student work on a centrally backed up server or NAS (Network Attached Storage), and in which case the need for large storage drives on the devices is not necessary. regarding connectivity, as the devices are moist likely to be used in school or on a home network, the Wi-fi only Surface Pro will suffice. The iPad has a cellular connectivity version, which would allow a SIM card to be used for internet access outside.
For use in school, laptop battery life is often the bane of teachers' lives. The iPad lasts for a substantial 10 hours of continuous use. Microsoft claims that the Surface Pro 3 will last for nine hours of web browsing, which is better than many laptops, however, the iPad will last much longer.
When it comes to accessories for its iPad there's the Smart Cover and Smart Case to protect the iPad and act as a stand, and that's about it. Microsoft has a Keyboard Cover for the Surface Pro 3, which comes complete with a trackpad. In order to get the true 'laptop' feel out of the Surface Pro 3, you'll need one. It'll set you back an extra £99 though. There's also a new Surface Pen stylus that works with the Surface Pro 3, and comes included in the box. Apple has yet to launch a stylus, though there are rumours about such product. There are also rumours about a keyboard case from Apple, so maybe that'll arrive with the upcoming iPad Pro.
Another area that makes the iPad Air and Surface Pro 3 very different devices is the software. Apple's iPad Air runs iOS 7 (soon iOS 8), an operating system designed specifically for mobile use. The Surface Pro 3 runs Microsoft's Windows 8, which means you can install applications that have been designed for desktop use such as any educational software currently on the school's network, as well as Microsoft's Office applications. Essentially, it can do everything a Windows laptop can.
Microsoft has recently launched its Office apps for iOS, but they are not the same as the programs designed for laptops and desktop computers, which the Surface is capable of running. However, the constantly growing selection of iPad apps in the iOS App Store is very impressive and not accessible from the Surface Pro 3. Therefore, while you'll get all of the desktop applications with Windows 8, you won't get some of the tablet apps that have made the iPad so famous.
The price of the two tablets is different. The Surface Pro 3 is designed for more powerful tasks than the iPad. It has bigger capacity options and more RAM.
The 64GB Surface Pro 3 costs £639 compared with the 64GB iPad Air at £559 (WiFi Only). For £639, you can get a 128GB WiFi only iPad Air, or a 128GB Surface Pro 3 for £849. Slightly older models of the iPad and models with less storage are available for as little as £300.
Overall, while the iPad and Surface Pro 3 are both tablets, they're aimed at different audiences and are difficult to directly compare. The Surface Pro 3 is designed to fit the needs of a more portable laptop. The iPad Air can cater to that, but not always entirely. Microsoft points out that 96 percent of iPad owners also own a laptop, and schools with iPads will usually also provide laptops.
The iPad Air is very powerful. It can achieve most day-to-day tasks and also offers up thousands of tablet-optimised apps for your entertainment, communication, education and productivity, but the Surface Pro can fully integrate with an existing school network and be managed the same way as the laptops and computers. IPads do require additional thought regarding management processes and saving work.
It is also worth pointing out that iPads and Windows tablets are not the only options, but that tablets running Android have also been used very successfully in schools, especially when managed via software such as 'LearnPad'. Mobile device management software like LearnPad or Lightspeed are paving the way for schools and teachers to be able to control the tablets in their classrooms and control what resources students can access during lessons. These MDM (Mobile Device Management) tools are developing methods of control across different types of devices. Their aim is for it to not matter which type of device a student is using, even their own personal device can be controlled by the school whilst it is on-site.
If you would like to discuss the options that would best suit your school, please get in touch and we will arrange a free consultancy visit at your school from one of our experienced technical and curriculum focused school development managers.