Broadband: it's not always what's fastest, it's what's right for your school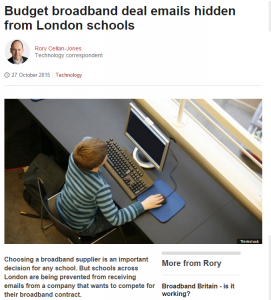 Here at Turn IT On we have been following with interest the recent London school broadband debate unearthed by the BBC's Technology Correspondent, Rory Cellan-Jones. You can catch up on the BBC website here. Part of London Grid for Learning's (LGFL) claims are that, by providing leased lines, the service they provide schools is superior to that of their competitors such as Exa Education. But is that the case?
Our answer to this question is based on our values. At Turn IT On our main drivers are based on two of schools' IT needs:
1. Making sure technology has the maximum impact on learning
2. Ensuring schools can work better for less by getting the best return for their technology investments
We concern ourselves with making sure each school's IT budget is spent with best value in mind and in an innovative way that will drive progress.
So when you are looking for broadband providers for your school, we believe it's essential you receive the connection that's best suited to your current needs, but with the flexibility to upgrade when these needs change. This is why we partnered with education ISP Exa Education and provide their broadband to many hundreds of schools.
With Exa's connections you only pay for what you truly need and will use. By providing uncontended lines LGfL claim to be able to provide the fastest connection. The truth is, Exa Education can also provide leased lines, but in fact it's not always the answer to buy into the fastest possible service in order to 'future-proof' your school's connection. Rather, better to buy into what you'll need for the coming year, review it on a regular basis and have the flexibility to upgrade when you want to.
We believe this flexibility provides better return on investment and a better way of looking ahead to the future. Five years (the length of an LGfL broadband contract) is a lifetime in technological developments. To put this into perspective, five years ago tablets and apps were only just being introduced and it is obvious how much mobile technology has impacted teaching and learning in this time (click here for our latest iPad training course). There are already a number of new broadband technologies that will eliminate the need for any physical lines into buildings in cities.
It is essential and invaluable to be able to keep up with the market and when schools are fixed for five years to a speed and connection that is surplus to their requirements this means they will remain in 2015 until 2020. The situation could be compared to a school with 100 pupils buying 1000 reduced-price iPads, just in case their intake increases over the next five years. With the average speed usage of primary schools in the UK ranging between 10mb and 20mb, it seems logical to assess your needs before buying.
This is not to say that LGfL's offering will not work for every school. We believe all schools should have the right to choose the best solution for their individual circumstances. As mentioned, LGfL's speeds are fast and the recent reduction in their contract price provides schools an attractive offer. However, Turn IT On would advise schools to:
-Not rush into a decision
-Be mindful of the future implications when signing a lengthy contract
-Be aware that to achieve best value more than just the cost should to be taken into account
If you are still to make your decision on your broadband connection and would like to speak to us about whether Exa could provide better value, please do get in touch. A member of our team would be very happy to come and visit your school to discuss your options with you.