Cheddington Combined School take podium in Sumdog maths Contest!
Sumdog is an online, adaptive learning engine that uses educational games to motivate students in Maths, Reading and Writing. Students' progress and ability is monitored and games are personalised to ensure each student develops their skills and allows teachers to monitor their progress. Most of Sumdogs' games and features are free with no time limits, simply create an account and the class can start improving their skills! Upgrades can be purchased to enable additional features. Students are rewarded in the games with Sumdog pets and coins to decorate their rooms and avatars alongside the motivation of national and regional competitions.
There are lots of games on Sumdog which the children play as their avatar in an animated world, although all games are different you always need to answer questions to make progress. Every game can be played to develop any skills so students don't have to stop playing their favourite game when they progress.
Games include Tower Climber; where children answer questions correctly to climb the side of the building and wrong answers can see them fall, Talent Show; where correct answers play the right cords on the guitar but too many mistakes could see them voted off, Street Racer; is a racing game against up to 3 other users where correct answers speed you up and mistakes slow you down and many more!
Free online Maths contests are regularly run, both nationally and regionally on Sumdog that schools and classes can enter. Classes of 10 plus students score depending on their accuracy, competing to be the best class in the contest. Contests are run from 8am Friday until 8pm the following Thursday and each students questions are adapted to suit their ability so that everyone can play and earn points.
Cheddington Combined School in Bedfordshire took part in the county contest with the help from their Turn IT On consultant Carol Noxon who incorporated the contest into the cross curricular IT classes.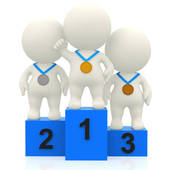 The results…
1st Place – Year 6 Cheddington Combined School
2nd Place – Year 3 Cheddington Combined School
3rd place – Year 4 Cheddington Combined School
Congratulations to all the classes for taking part and taking over the podium in the county contest!!

Are your school taking part in any contests or projects? Let us know how it goes!