Anti-Bullying Week 2015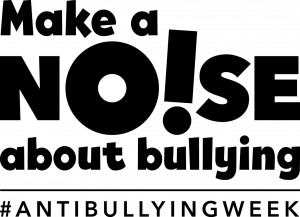 This week, 16-20th November, is Anti-Bullying Week, coordinated by the Anti-Bullying Alliance. The theme for this year's campaign is "Make a Noise about bullying". The campaign hopes to help parents and carers have conversations with their children about bullying, equip teachers to enable them to respond effectively when children tell them they are being bullied and to encourage "talking schools" – where all children and young people are given a safe space to discuss and report bullying and other issues that affect their lives.
Anti-Bullying Week is no longer focused on just traditional bullying but also addresses Cyber Bullying, it is essential children think before they post online and that they understand the importance of respecting the thoughts and feelings of others.
There are many ways schools can get involved with Anti-Bullying Week this year. The Anti-Bullying Alliance are running a prize draw which you can enter by simply tweeting @ABAonline with the Hashtag #MakeaNoise or emailing aba@ncb.org.uk photos or videos of what you are doing for Anti-Bullying Week. You can also share your selfie with your anti-bullying message in a speech bubble to help spread awareness.
Here are some of resources available to help spread the Anti-Bullying message in your school:
The Anti-Bullying Alliance vision is "together we can stop bullying and create safe environments in which children and young people can live, grow, play and learn".
By supporting Anti-Bullying Week you can help raise awareness of a worthwhile cause that makes a real difference to children's lives.