Remote Access for Teachers? Free London Grid OTP Tags are Required
London Grid for Learning now provides OTP tags (One Time Password) for schools for free! They were previously £45 each unless bought in bulk.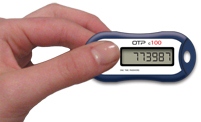 Using OTP tags is more secure. It also grants schools more control over their internet access. Turn IT On consultants would be able to set up remote access for staff users, so that nominated admin or teaching staff can access their school PC from home.
Turn IT On would also be able to set up access to authorised online resources that are not usually accessible on school's LGfL internet connections.
For example www.knowmaths.com is offering all schools a fantastic free trial (get in touch if you are interested!) but as it is one of many resources that require access to remote tools, any London Grid school must have OTP tags to allow Turn IT On to set it up.
Get your school's free OTP tags: https://shop.atomwide.com/ProductDetail.aspx?id=135&cat=7 (see the application form link at the bottom of the page)
Once a school has moved to OTP authentication with London Grid for Learning (LGfL) the Head Teacher and all nominated contacts at a school will have use the OTP tag each time they log in to the LGfL Support site. If you are not sure how many to order, check who the current nominated contacts at your school are: https://support.lgfl.org.uk/public/usoreq.aspx
(If any nominated contacts in the list have left the school, they should be removed by contacting LGfL on 02082555555 or by asking your Turn IT On Consultant)