Turn IT On at Oxfordshire Headteachers' Conference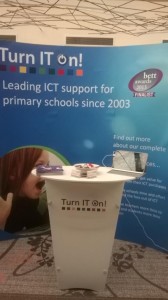 Turn IT On is at the Oxfordshire Headteachers' Conference this week and we are looking forward to meeting up with some of our schools from the county.
If you are one of the headteachers attending the conference please do drop buy our stand to say hello. Not only will we be glad to catch up with you but we are also really looking forward to demonstrating the three tablets we have with us. We are focusing on information for the the new computing curriculum and the devices and apps schools can use to deliver it.
Along with showing the types of devices available we are also keen to speak to you as to how our Discover Network can run these devices.
Please come and speak to us if you have any questions about the new computing curriculum or about any element of your school's computing.