Robotics sessions at St Andrews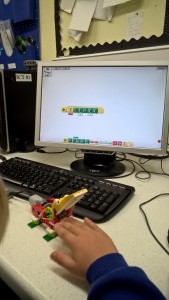 St Andrews C of E School in Headington have been improving their programming and robotics skills with Lynn Brittain, their Turn IT On consultant. Year 2 have been using Lego WeDo, a simple-to-use tool that allows models to be created then bought to life using the computer. The class have created model crocodiles that use sensors to snap their mouths closed when something is near and making birds sing and dance! Using their own algorithms and debugging them the classes have been able to make the models do whatever they like. Year 5 are using an NXT robot to develop their programming skills. Creating obstacle courses and using the computer software to tell the robot how to get from one end to the other.
Tom Welch, Turn IT On MD said "sessions like these are a great way to enable primary school children to learn about programming which is now an essential part of the computing curriculum". With the reliance on technology constantly increasing it is essential children are able to not just consume technology but also understand the logic and science behind it to allow them the control. Teaching students how this technology works and how they can use it gives them the confidence and potential to make their ideas into reality.
It's great to hear that the children are enjoying the sessions and telling everyone they pass how they have been able to make the crocodile snap!