Turning unwanted phones into a free breakfast

Good Morning Britain have launched the Phones for Food campaign as part of ITV's Tackle Hunger Together initiative. The campaign aims to help give free, nutritious breakfasts to hungry school children across the UK by working with the charity Magic Breakfast.
Over 1 million children currently go to school without eating breakfast and are too hungry to learn. Eating a healthy breakfast helps improve a child's concentration, behaviour, attendance, punctuality and education attainment.  Magic Breakfast is trying to tackle this issue and they already feed more than 22,000 children each morning but there is an ever growing waiting list of schools requesting urgent food aid.
In order to allow Magic Breakfast to open more school breakfast clubs across the UK the Phones for Food campaign is a simple way to donate. All you need to do is donate your unwanted mobile phones so that they can be recycled and turned into healthy breakfasts.
It only costs 22p to give a school a breakfast and even non-working broken devices will have a minimum of a 44p donation to Magic Breakfasts so every phone is guaranteed to donate at least 2 breakfasts!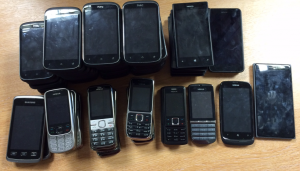 Here at Turn IT On we have donated 61 phones, each phone is worth a different value depending on age and if they are working but we believe the phones we've donated equate to around 382 breakfasts!
We are very happy to have been able to support such a great cause and if you have any unwanted mobile phones the campaign is running until the end of October so there is still time to donate. You can drop them at your nearest Poundstretcher store or make your school a pick-up point to allow parents and staff to donate, if you only have one phone you can post them with this postal label, every phone helps! If you have 5 or more unwanted phones like we did here at Turn IT On you can arrange for them to be collected by emailing itvphonesforfood@tsrlimited.co.uk