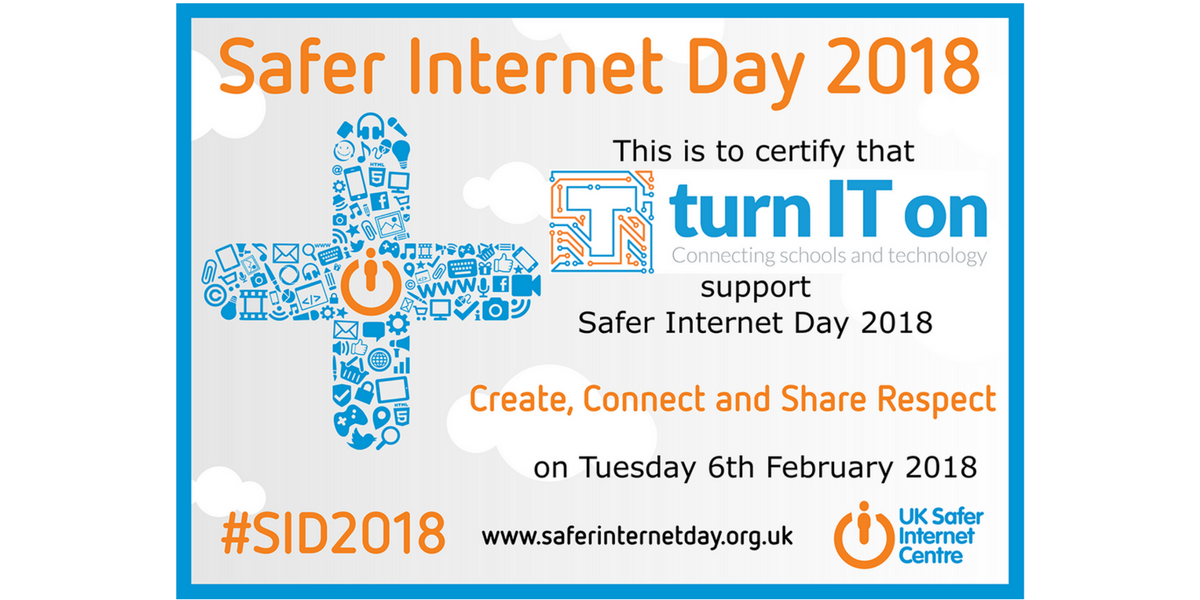 Safer Internet Day 2018
Today is Safer Internet Day and as a supporter turn IT on consultants are spreading the safer internet message across our schools.
In Hampshire, Damian Doyle turned Safer Internet Day into Internet Safety half term and kicked off 2018 with an online survey of the pupils in his schools. The survey collected data on devices, time spent online at home, online habits, social media accounts, games, attitudes and understanding. Since collecting the data the classes have been able to look at different aspects of online safety based specifically on their own data rather than that of 'children in the UK'. This has led to lots of lively debates and the pupils are now drawing up "Children Internet Charters" listing the rights their parents give them.
In several of our Oxford schools, Julie Tavender is using the Safer Internet Jigsaw Pieces to make wall displays that convey positive online messages as part of the #ItStartsWithUs message.
Vicki Jenkins in Buckinghamshire is holding assemblies in her schools to spread the Safer Internet Day theme "Create, Connect and Share Respect: A better internet starts with you".
Across London several of our consultants are holding parent workshops to help parents set up age restrictions on devices, discuss age-appropriate access and ensure the parents know how their children are spending their time online.
These Safer Internet Day sessions are being run by turn IT on teaching consultants. We offer a range of curriculum services including teacher training, PPA cover and team teaching. Please contact us if you would like to know more.