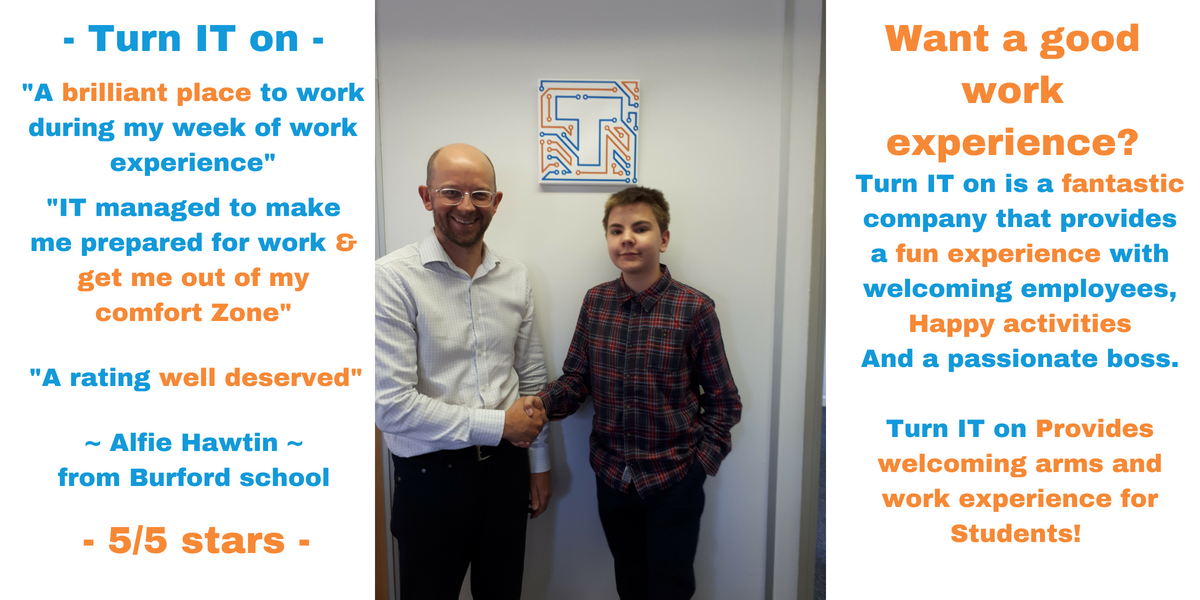 Work experience interview with Tom Welch.
This week we have been joined in the Witney office by Alfie Hawtin, a year 10 from Burford School on his work experience. Read on to find out what Alfie got up to and learnt during the week…
On the 14th to the 18th of May, I have had work experience with a company known as turn IT on which is a business that supplies Computer Support & hardware etc to over 600 Primary schools and have also started to invest their Services in Secondary schools as well.
At first, I was very nervous on my first day with only my backpack, computer knowledge and organised essentials but when I walked in, I was very welcomed and was introduced to the employees of the office.
I did feel less nervous after a couple of minutes and was provided with the timetable for the week which in one way made me a tiny bit more nervous but there was nothing to worry as I was provided with fun activities in a very roomy office with employees who were very happy and helped me if I had any problems as well as being treated equally and provided me refreshments which have made me start to like tea now!
In the week I was shown around the establishment and was shown how they work in the industry such as finance, marketing, central services and human resources by the employees within them. They were all very optimistic and knew what they were doing and sacrificed their time to tell me about their sections of the business which I am very privileged to be there. The activities were quite easy like looking at cheques, reviewing their website, designing a charity campaign myself which actually made an office job sound… fun.
In the 6 hours each day I was in the office I never got bored with the activities as well as being provided a lunch hour from 12 am to 1 pm which gave me enough time to eat as well as complete my work diary that my school (Burford) provided me, even then the time went by too fast. I wasn't sure that it was because I was having fun yet, I didn't want it to end.
On Thursday I interviewed the boss of the company as well as having a picture (seen above).
Tom Welch (the boss) answered very well to my questions without even stuttering or hesitating despite the fact that he didn't prepare for it.
On my first question, he said he started the business by taking a small loan from Barclays bank (est. £3000) and started to think of small silly ideas that could improve schools which in that time he was a Primary school teacher for 5 or 6 years. At this point, he saw the potential in computers and started to make a company that provides computer machinery for schools to help with learning and the school's wellbeing and properly integrate it into our lives, in one way you could say the future was with the flick of a switch.
Tom Welch also said that the reason for his business was to make himself his own boss and make a living, as well as give him control which was more of an upgrade as he could control employees rather than cheeky school children. His expectations were massively exceeded with the company earning an average of 6.5 million pounds a year.
He knew also that he had unlimited liability but was not concerned about it as every year was profitable with improved business marketing. He wasn't concerned about his competitors either, as he created a service that didn't even exist until 2003 and is still not to this day as many of his competitors only target Primary schools.
When Tom Welch first started he did not have a business plan but instead took risks, which is part of an entrepreneur daily life and if the risks were a mistake (or didn't pose much of a benefit) he would learn from it which improves his business even more. He said also that it was important to listen when being a boss in the company. The employees can provide great ideas and with a bit of risk, invest in that idea and use it to strengthen their business and make a better reward.
Surprisingly though Tom Welch said he spends no money on advertising, instead gets promoted via recommendation which is quite an achievement as they are very popular judging by the company being called by customers 1 to 10 times a minute.
As well as this Tom Welch said that they invest in charity campaigns such as "lunch for learning" in Uganda, which helps children get a better education as well as nourishment from the food provided by the charity and have started to consider a charity campaign that could help work to beat cancer once and for all. As well as that he said he supports the charity because he wants to be useful and help the unfortunate.
In the last question, he said that he would continue this even in retirement. When I asked him if he would change anything he said no… and that was a good thing.
Overall, Tom Welch possessed the qualifications of being an entrepreneur such as resilience, as well as having a wide understanding of the business industry. He is therefore well fitted to be the boss of his own company so if any inspectors are reading this, I've done the work experience
After that, I got taken a picture with him as well as being given the chance to visit Chipping Norton school to look at how the turn IT on ICT consultants support the IT in the school.
In conclusion, turn IT on is a brilliant, successful company which was very helpful. As well as giving me a full understanding of the world of work in addition to other types of industry, I recommend it to anyone who is looking for work experience.
A 5-star rating is well deserved…
From Alfie Hawtin (work experience).