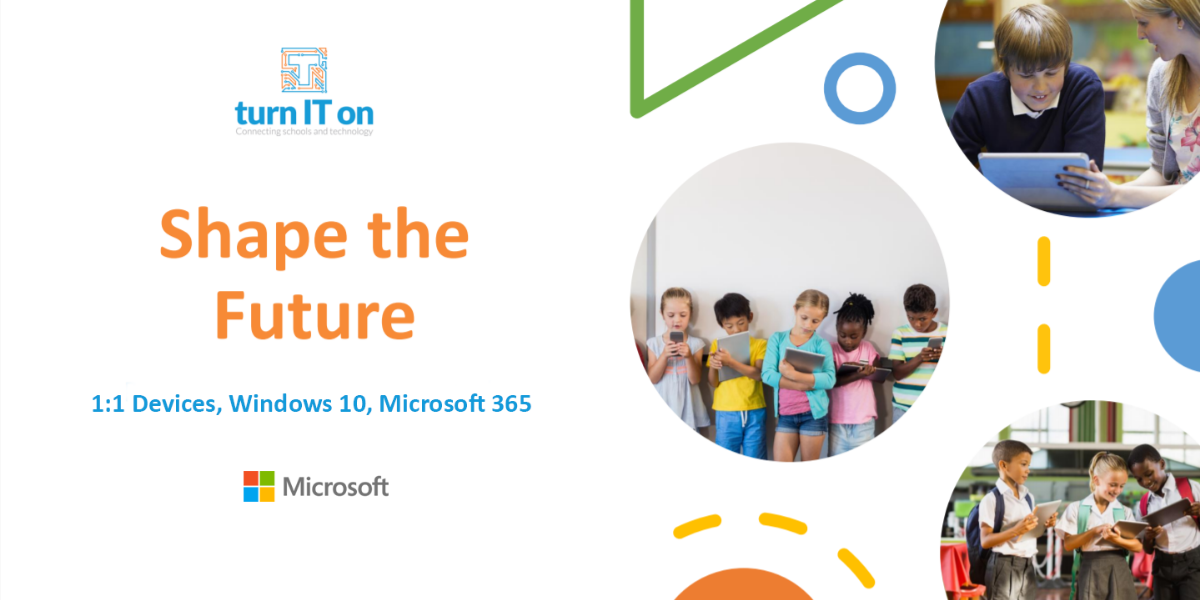 Shape the Future
Affordable devices with Shape the Future
Get affordable devices 💻 turn IT on in partnership with Microsoft is offering you access to affordable devices for staff and pupils. Any school with a valid UK school email address is eligible. ⭐
Get started! ➡ turniton.co.uk/shape-the-future/
Transform your classroom and discover the power of combining 1:1 devices with Windows 10, Microsoft 365 and a reliable package of apps.
If your school is ready to take advantage of this scheme, verify your school email and sign up or send us an email for more information. ✉
What is Shape the Future?
Shape the Future allows schools to access affordable devices and deploy Windows 10 and Microsoft 365 throughout education. turn IT on in partnership with Microsoft is proud to offer access to affordable devices to any qualifying primary or secondary school. These devices can be used by administrators, teachers, and students.
Who is Eligible for Shape the Future?
Shape the Future with turn IT on allows qualifying schools to purchase devices with discounted Windows licenses from Microsoft. Any school with a valid UK school email address is eligible to access devices via this programme. By registering and establishing your institution's eligibility, you will be qualified to purchase from turn IT on at the discounted prices.
How do I get started with Shape the Future?
Getting started with Shape the Future is simple! You can start by verifying your school email address and registering for the programme. For more information or help with this please contact us. ✉

The Right Devices For Your School
Microsoft and turn IT on believe everyone should have access to affordable education devices. Shape the Future with turn IT on can help you find an easy-to-manage device with a range of features and functionality and all within your budget. Selected devices are available for upfront purchase, or the cost can be spread across 3-year termly payments. 🔎 Browse Devices
Continuing Professional Development
We want you to get the most out of your devices so we are offering free support and training when you purchase multiple units. Every set of 30 devices will be accompanied by a half-day of on-site or remote support involving a session of professional development. And every set of 30 devices will be accompanied by O365 tenancy review.
Terms and Conditions apply, Shape the Future Programme with turn IT on 2021.
✉ Email: office@turniton.co.uk
💡Follow us on Twitter, and Facebook for regular news and updates.