Crazy Talk Animator
Teaching computing? It is not only coding and programming! Cover Digital Literacy aspects of the computing curriculum using CrazyTalk Animator. Students can import photos or scanned images to create full-body characters with automatic facial animation and puppeteering motions. Student writing can be turned into a script using a text-to-speech editor or through recorded audio. CrazyTalk uses the audio to automatically animate characters with lip-syncs and intricate facial expressions to match any scenario. Create easy facial and body animations in minutes with any photograph/image or audio recording to bring historical characters to life and let them tell their side of the story!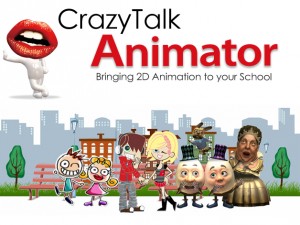 Register on Reallusion's website to access free lesson plans designed to help teach animation in the classroom.
Crazy Talk Animator is 2D with a user friendly interface suited to Primary school students. Crazy Talk Animator 2 adds more features and the new version CrazyTalk7 is even more advanced. It is being used in many Secondary schools and for professional applications.
Take a look at this video that year 7 students used to win, in the Macarthur Film Festival after their drawings of themselves were animated to speak their poetry with their own voices.

Here is another short piece created to help early learners with basic story telling. Featuring 2 KS2 pupils as voice actors.
Download a trial and have a go yourself over the summer.
If you decide to use the software at your school, call Turn IT On if you would like us to run a free staff training workshop on using CrazyTalk Animator for class projects.